Comedian Robin Ince is joining us at the Lemon Tree this week with his Pragmatic Insanity Show. Robin's first new stand up show in three years is a clash of the two cultures, a joyous romp through his favourite artists and strangest scientific ideas. From the work of Stanley Spencer to Niels Bohr, it is 90 minutes fizzing with ideas about creativity in science and art, as well as asking why we believe we see what we see and why we believe what we believe. Robin is the winner of a Sony Gold and Rose d'Or for the Infinite Monkey Cage and the Time Out Outstanding Contribution to Comedy, as well as The Francis Crick Science Journalism Award and 3 Chortle awards.
You're well known for your science shows and comedy, this new show is a mixture between art and science, have you always been interested in art?
I think it really kicked in when I would wander around galleries during my loose ends in towns while touring. My problem is that I am interested in everything, so know nothing about anything. My tour shows are like an Open University course for me, it means I have to focus on a subject for a while.
You've been touring a lot with Brian Cox, what differences do you find between touring on your own and with Brian?
I suppose the big difference is that I play to nine thousand fewer people when I am on my own. It is a very different form of fun you get from doing a double act with a particle physicist and I also have to be very aware that I am not the main attraction so I have to control some of my improvisations, but on my own I can be as insane as I want to be.
You've written a few books and short stories, are you working on anything just now?
I am currently working on a book about neuroscience and psychology using the brains of comedians as a starting point, it is called I'm a Joke and So Are You and is out in the Autumn. Then it will be another Monkey Cage book, hoping to do another Dead Funny horror anthology too.
You've also written some horror style stories both in Dead Funny and on the Hammer Horror Audio plays, is this a genre you particularly enjoy?
One of my next shows at the Edinburgh Fringe is called The Satanic Rites of Robin Ince and is all about when I fell in love with horror movies when I was eight.
You've just finishes a series of the Infinite Monkey Cage, have you got another planned?
Next series of Monkey Cage goes out in July and that will include our one hundredth episode.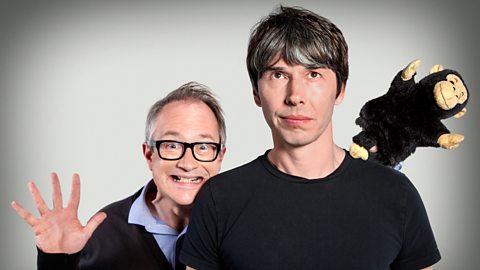 We're looking forward to having you visit the Lemon Tree again have you any memories of Aberdeen?
It is a future memory I am particularly looking forward to - next year, when I am back on tour with Brian, I will be celebrating my fiftieth birthday in Aberdeen.
What are you up to after this tour?
This tour goes on until November and I will also be doing a lot of events around my new book and writing another one and then going on a world tour with Brian
Lastly - and this may seem a strange question to those who have never read your book Robin Ince's Bad Book Club, did you ever find another copy of The Secrets of Picking up Sexy Girls?
Sadly, the best I managed was the prequel, found for me by a librarian in Plymouth, called How to Undo A Maiden. It as not quite as terrible and gives no advice on how to remove a cardigan.
Thank you so much Robin for your time,
There are still tickets left to book for Robin's show:
You might be interested in Robin's podcast about books with Josie Long, Bookshambles, for more info: