In October 1998 in the middle of the prairie outside Laramie, Wyoming, Matthew Shepard, a 21 year old student at the University of Wyoming, was tied to a fence post, severely beaten, robbed, tortured and left, alone, to die. His body -- battered, bloody, barely clinging to life -- was discovered eighteen hours later. He was rushed to the hospital and put on life support. He died five days later.
The reason for this brutal crime? Matthew Shepard was gay. Five weeks later, Moisés Kaufman and fellow members of the Tectonic Theater Project went to Laramie, and over the course of the next year, conducted more than 200 interviews with people of the town. From these interviews they wrote the play The Laramie Project, a chronicle of the life of the town of Laramie in the year after the murder. In the 20th anniversary year of Matthew's death the themes and issues of this play are now more than ever.
John Naples-Campbell, director and ambassador for the Matthew Shepard Foundation here in the UK, brings his award-winning production to Aberdeen with a local cast wanting to continue Matthew's legacy of hope and erasing hate.
This is an important play about one of the watershed moments in consciousness of LGBT rights and the violence towards the community in the US, and as well as being part of what has helped change some attitudes in the US, we wanted to give you some important background on how the play came to be and why it is so important.
The director John Naples-Campbell spoke to us of the importance of the play to him:
'As a young gay teenager when Matthew was murdered, his death had a profound effect on me. Was this my future? Was this the norm? It was scary. Having been educated under Section 28 there was very little in any way of a positive visual role model in the public that belonged to the LGBT community. Schools were not safe places for those wanting to come out and Matthew's story echoed everything that we feared but seeing the public outcry at what happened, the grief across the world it became clear, as Dennis Shepard said at Russell Henderson's plea bargain hearing (Henderson is one of Matt's killers, now spending the remainder of his life in prison), "good is coming from evil.".

Twenty years on and that good continues. Yes, his murder sparked a national conversation not only about hate crimes but about LGBT lives in general. Yes, it began a process where our experience as LGBT people suddenly had more context in the broader culture. (It followed the coming out of Ellen DeGeneres in 1997, making the late '90s a very influential time for the cultural visibility of LGBT people.) and now it's coming to Aberdeen in a moment that is more important than ever, hate crime is on the rise and the media targeting of the transgender community means that we still have a lot of education to do.

As a human rights and LGBT campaigner and educator I have devoted my life to telling Matthew's story to educate others in erasing hate. The North East of Scotland is a beautiful place to live and work but being LGBT here can be difficult, for many reasons. This play is a chance to open this discussion and to use Matthew's story to create a more tolerant and accepting society.'
Matthew Shepard
---
Matthew Wayne "Matt" Shepard (December 1, 1976 – October 12, 1998) was an American student at the University of Wyoming who was beaten, tortured, and left to die near Laramie on the night of October 6, 1998.
The horrific events that took place shortly after midnight on October 7, 1998 would become one of the most notorious anti-gay hate crimes in American history and spawned an activist movement that, more than a decade later, would result in passage of the Matthew Shepard and James Byrd Jr. Hate Crimes Prevention Act, a federal law against bias crimes directed at lesbian, gay, bisexual or transgender people. Two men, Aaron McKinney and Russell Henderson, abducted Matt and drove him to a remote area east of Laramie, Wyoming. He was tied to a split-rail fence where the two men severely assaulted him with the butt of a pistol. He was beaten and left to die in the cold of the night. Almost 18 hours later, he was found by a bicyclist who initially mistook him for a scarecrow.
Matt died on October 12 at 12:53 a.m. at Poudre Valley Hospital in Fort Collins, Colorado with his family by his side. His memorial service was attended by friends and family from around the world and garnered immense media attention that brought Matt's story to the forefront of the fight against bigotry and hate, and spawned the Matthew Shepard Foundation which lead to the Laramie Project. The Matthew Shepard Foundation strive to replace hate with understanding, compassion and acceptance and the Laramie Project enables communities to look at their own values and how they can make their communities a safe and tolerant place to live and work in.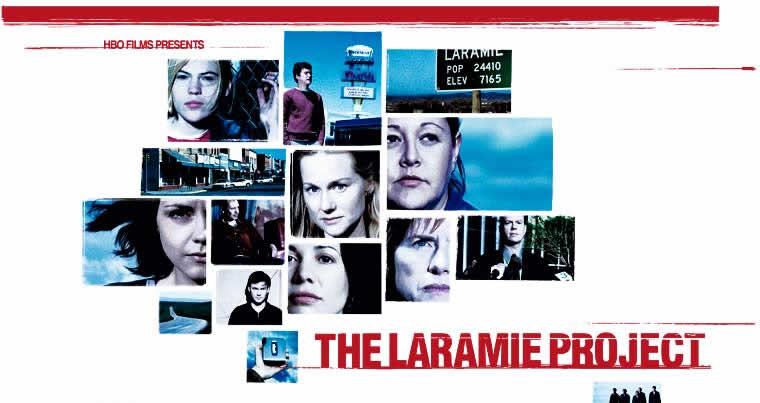 The History of the Laramie Project

---
The Laramie Project (2000) was a play written by Moisés Kaufman and members of the Tectonic Theater Project (specifically, Leigh Fondakowski, Stephen Belber, Greg Pierotti, Barbara Pitts, Stephen Wangh, Amanda Gronich, Sara Lambert, John McAdams, Maude Mitchell, Andy Paris, and Kelli Simpkins) about the reaction Matthew Shepard's murder.
The play draws on hundreds of interviews conducted by the theatre company with inhabitants of the town, company members' own journal entries, and published news reports. It is divided into three acts, and eight actors portray more than sixty characters in a series of short scenes
The Laramie Project premiered at The Ricketson Theatre by the Denver Center Theatre Company (Denver) (part of the Denver Center for the Performing Arts) in February 2000 and was then performed in the Union Square Theatre in New York City before a November 2002 performance in Laramie, Wyoming. The play has also been performed by high schools, colleges, and community theaters across the country, as well as professional playhouses in the United States, Canada, the United Kingdom, Ireland, Australia, and New Zealand.
As a result of the play's success, HBO commissioned a 2002 film of The Laramie Project, also written and directed by Kaufman.
The holder of the royalties/rights to The Laramie Project is Dramatists Play Service, Inc. The Matthew Shepard Foundation provides help and resource for those wishing to produce The Laramie Project or The Laramie Project: Ten Years Later. The Foundation's Laramie Project Specialist can help with media, historical context, creative consulting, and other resources and services at no charge to non-profit theatres and educational and religious institutions. The Foundation can also help those who wish to engage their communities in a conversation about how to Erase Hate in the world.
LGBT History Month

---
We are holding this as part of LGBT History Month, The overall aim of LGBT History month is to promote equality and diversity for the benefit of the public. The Theme for this years LGBT History Month is 'When We Were Young' and asks us to Indulge in a little nostalgia from our youth, celebrate how far we've come, and imagine a bold vision of the future for LGBTI people.
---
Dates: Wednesday 28 February 2018 - Friday 02 March 2018
Venue: The Lemon Tree
Time: Start - 7.30pm
Age: Adults, Teens
Price: £13.20 inc. bf.
Genre: Drama
---

To Book
Tweet