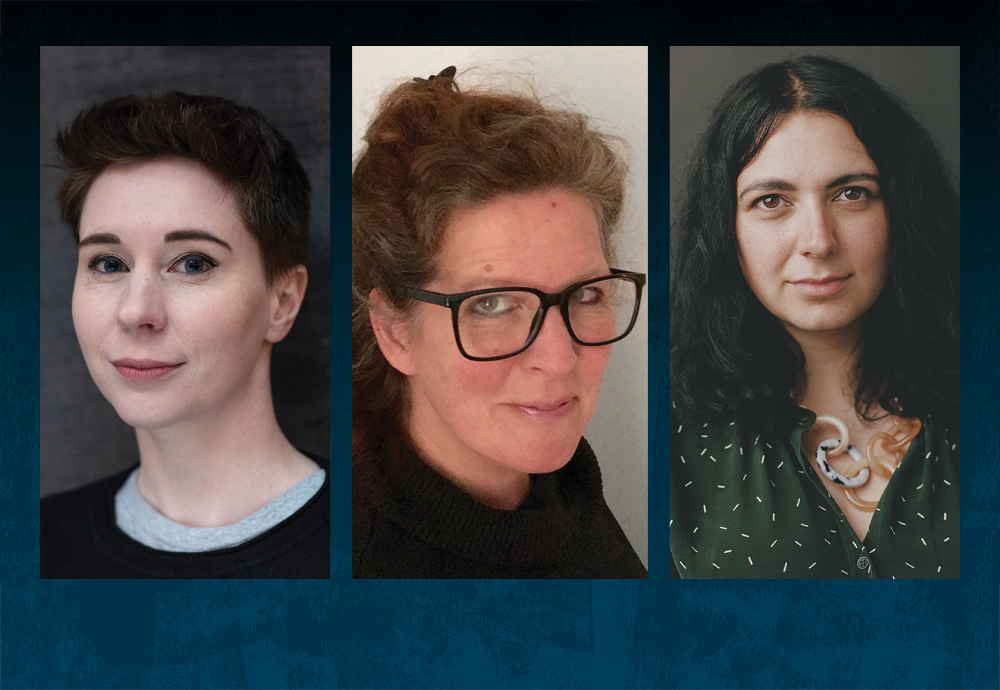 Granite Noir: Bold New Voices with Cailean Steed, Kitty Murphy and Rachelle Atalla
25 Feb 2023
11:00am
Lemon Tree
Granite Noir: Bold New Voices with Cailean Steed, Kitty Murphy and Rachelle Atalla
Come along and meet some of the best new authors writing today. In Home, Cailean Steed writes the story of going back to a cult – will Zoe question everything she believed about her past and could she also be risking her hard-won freedom. Most importantly – can she break free a second time?
When Fi McKinnery goes to support her best friend Mae B's drag debut in Kitty Murphy's Death In Heels one of the queen's turns up dead in the gutter and Fi is convinced it was foul play.
Rachelle Atalla's The Pharmacist traverses genres, examining motherhood, morality (or the loss of it), power struggles, love, and desperation. A true literary thriller!
Chaired by Bryan Burnett.
This event will be live streamed and can be viewed online.
Cailean Steed
Cailean Steed is a writer, teacher and aspiring dog owner who lives in Helensburgh with their husband and son. They have also resided in Aberdeen and Dublin, and hope one day to live somewhere with less rain. Cailean's work has been published by New Writing Scotland, Boudicca Press and Barren Magazine. Home is their first novel. Their mother would like them to write something more cheerful.
Kitty Murphy
Kitty Murphy lives with her husband, Roger, on the very westerly edge of Co. Clare, Ireland. She adores drag in all its forms and crime fiction in all its chilling splendour. Kitty is bi/queer. From a well-spent youth divided equally between the library and the LGBTQ+ scene, it was only a matter of time until both worlds collided in a flurry of fictional sequins.
Rachelle Atalla
Rachelle Atalla is a Scottish-Egyptian novelist, short story writer and screenwriter based in Glasgow. Her debut novel The Pharmacist will be published by Hodder & Stoughton in May 2022, with her second novel Livestock scheduled for the following year. Her short stories have been published widely in literary anthologies; she is the recipient of a Scottish Book Trust New Writers Award and co-edits New Writing Scotland.
Bryan Burnett
Bryan Burnett is the host of BBC Radio Scotland's popular evening music programme, Get It On
Aberdeen born Bryan began his career as a teenage magazine journalist before moving into radio and TV presenting.
Bryan has presented a wide range of shows over the years from arts and entertainment to quiz shows. He was also the frontman of the long running travel show, Scottish Passport.

Granite Noir Discounts
The more shows you enjoy at Granite Noir 2023, the more you save!
Just log in to your account add the shows to your basket and the discounts will add automatically.
Buy for 5 events or more – 15% off
Buy for 10 events or more – 20% off
Buy for 12 events or more – 25% off