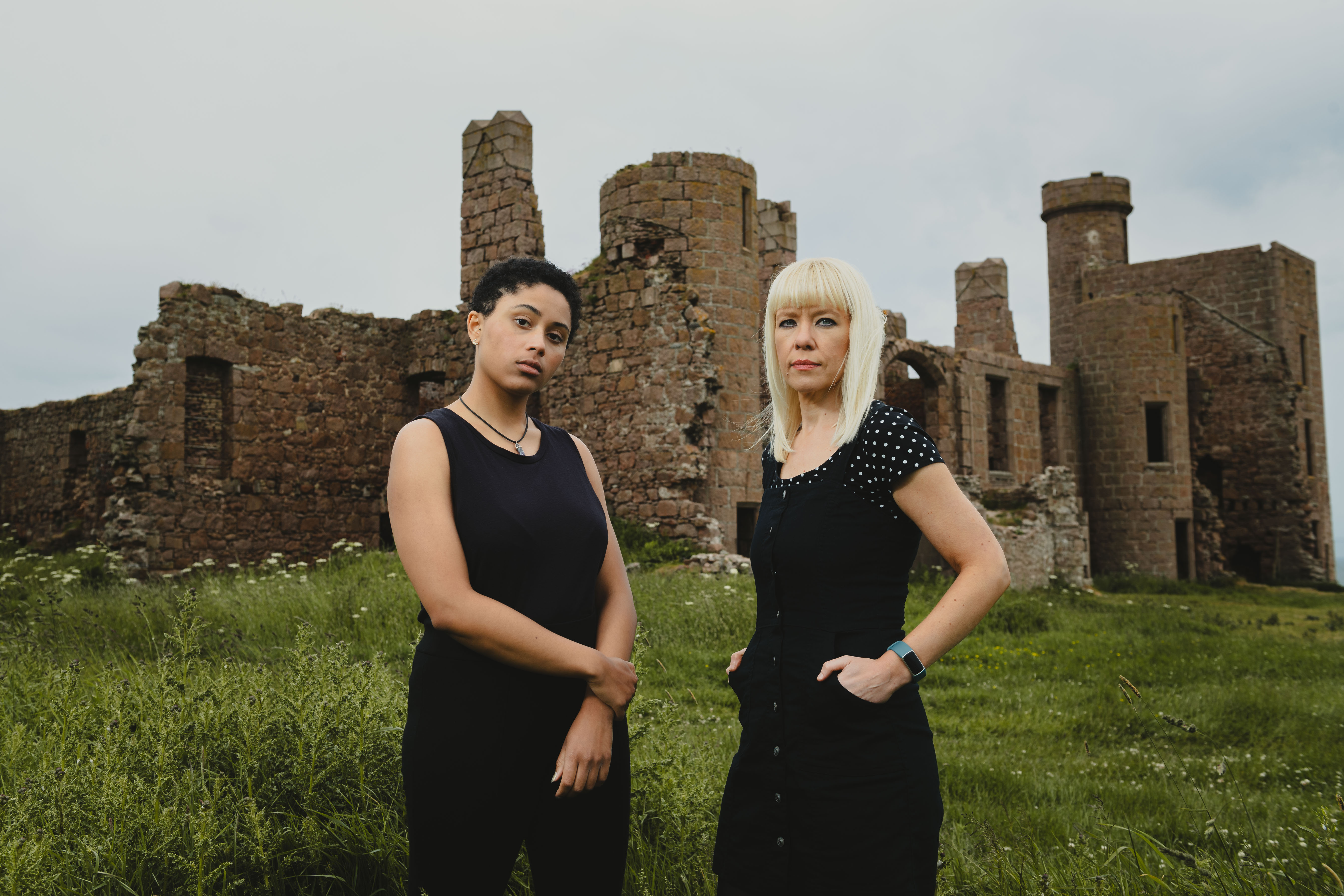 Actor Danielle Jam and Writer, Morna Pearson visit Slains Castle in Cruden Bay ahead of rehearsals starting for Dracula: Mina's Reckoning
A National Theatre of Scotland and Aberdeen Performing Arts production in association with Belgrade Theatre, Coventry
New production, rooted in Aberdeenshire, celebrates Bram Stokers connections to Scotland and the North East.
Actor, Danielle Jam and Writer, Morna Pearson visited Slains Castle in Cruden Bay ahead of rehearsals starting for Dracula: Mina's Reckoning.
Morna Pearson's thrilling new adaptation of Dracula, directed by Sally Cookson, is being brought to stages across Scotland and England by the National Theatre of Scotland in a co-production with Aberdeen Performing Arts in association with Belgrade Theatre, Coventry. Premiering at His Majesty's Theatre in Aberdeen from 2-9 September before touring around the UK until Saturday 28 October 2023, Sally Cookson's sweeping, atmospheric production of Morna Pearson's bold new adaptation is relocated to Aberdeenshire and the wild beauty of North-East Scotland, acknowledging the area's recently reported inspiration for Bram Stoker's classic novel.
Set in a psychiatric hospital in Aberdeenshire in 1897, this unique Scottish adaptation places the character of Mina Murray at the centre of the action. The production features atmospheric, Gothic-inspired set and costumes designed by Kenneth MacLeod with video design by Lewis den Hertog, lighting design by Aideen Malone, a dark, distinctive score from composer Benji Bower and visceral movement from Vicki Manderson.
Danielle Jam said: "It was brilliant to visit Slains Castle. Our version of Dracula is set in the North-East and Slain's Castle influenced Bram Stoker in how he imagined Dracula's castle. The local language, dialect and landscape will influence how I play the role of Mina in the production and because I'm from Aberdeen, like Mina, I feel very rooted in the world of the play. I was brought up speaking Doric and where the story is set is my home.
"I'm looking forward to working with the writer, Morna Pearson who is also from the North-East. I'm excited to speak her words and to learn more about how she envisions the world of Dracula".
Morna Pearson said: "When researching I read about Stoker's time in Cruden Bay, I knew Slains Castle was an influence, but I hadn't appreciated how much, especially the octagonal room which features in the original novel. It was inspiring to visit the castle for the first time; it felt very warren-like and oppressive, despite not having a roof. The novel's roots in the North-East are reflected by there being a Doric speaker in the original Dracula and there will be two Doric characters in my version with some others using a lighter dialect. It's fantastic that with our production's Mina, we have found a brilliant Doric speaking actor like Danielle."
Sharon Burgess, Chief Executive of Aberdeen Performing Arts said: "This brilliant play is permeated with such a sense of place throughout and it's setting in
Aberdeen makes its premiere at HMT this September feel like a real homecoming. We wanted to celebrate this and the avenues it opens up in terms of sparking imaginations and interest in the history and connections that the original story had to this region, so it was great to see Danielle and Morna soaking up the atmosphere at Slains Castle."
Morna Pearson was born in the North-East of Scotland, in Elgin, and is an award-winning Edinburgh-based playwright and screenwriter. Morna's work for National Theatre of Scotland includes Darklands written as part of Interference trilogy and Clearing for Scenes for Survival. Other theatre work includes Let's Inherit the Earth (Dogstar/Profilteatern); How toDisappear (Traverse) and Dr Stirlingshire's Discovery (Lung Ha/Grid Iron). She was a recipient of the Meyer-Whitworth Award and her first short film, I Was Here, gained BAFTA Scotland and EIFF nominations for Best Short Film.
Danielle Jam trained at Queen Margaret and Edinburgh Napier Universities. Theatre includes: Kidnapped, James IV: Queen of the Fight, Them! (National Theatre of
Scotland), Wings Around Dundee, The Snow Queen (Dundee Rep) thick skin, elastic heart (Sonnet Youth and Company Many) A Midsummer Night's Dream (Ten Feet Tall Theatre) Silver Superheroes, It Wisnae Me (A Play, A Pie and a Pint). Film/Television include: Scot Squad (BBC Scotland), DASH (BBC Scotland) Molly and Mack (Cbeebies). Danielle was recently nominated for 'Best Magical Being' in the UK Pantomime Awards 2023 and 'One to Watch' by the Herald Scottish Culture Awards 2019.
DRACULA'S COMING HOME
A full set of resources celebrating the connection the production has to the North-East of Scotland is now available on the Aberdeen Performing Arts website.
Dracula: Mina's Reckoning
Conceived by Morna Pearson and Sally Cookson
Written by Morna Pearson after Bram Stoker and Directed by Sally Cookson
Full cast: Natalie Arle-Toyne, Maggie Bain, Ailsa Davidson, Catriona Faint, Danielle Jam, Liz Kettle, Anne Lacey and Ros Watt.
Associate Director – Becca Chadder, Set and Costume Designer – Kenneth MacLeod, Composer – Benji Bower, Movement Director – Vicki Manderson, Lighting Designer –
Aideen Malone, Video Designer – Lewis den Hertog, Casting Directors – Simone Pereira Hind CDG and Anna Dawson, Jo Cameron Brown – Dialect Coach. BSL Performance interpreters – Catherine King and Yvonne Strain.
Join in the conversation: #Dracula #MinasReckoning
Touring from September to October 2023 to His Majesty's Theatre, Aberdeen (previews Sat 2, Tue 5, Wed 6 Sept) Thu 7 – Sat 9 Sept; Theatre Royal, Glasgow Wed 13 – Sat 16 Sept; Macrobert Arts Centre, Stirling Thu 21 – Sat 23 Sept; Eden Court, Inverness Thu 28 – Sat 30 Sept; Dundee Rep Thu 5 – Sat 7 Oct; Festival Theatre, Edinburgh Wed 11 – Sat 14 Oct, Belgrade Theatre, Coventry (18 – 21 October) and Liverpool Playhouse (24 -28 October).
Full tour information and lead creative biogs here: https://www.nationaltheatrescotland.com/events/dracula