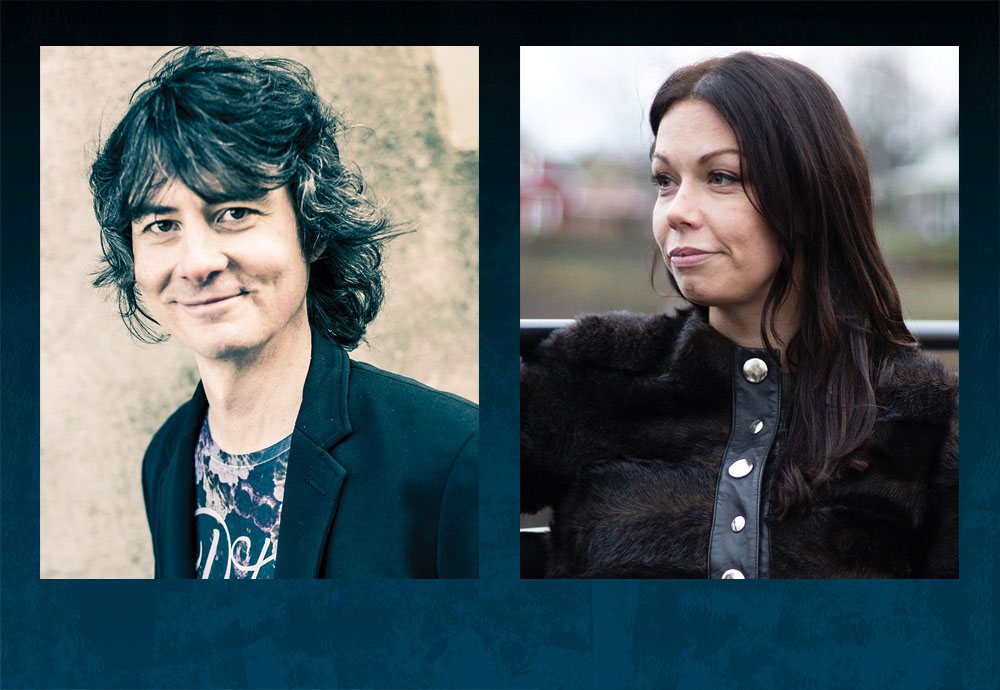 Granite Noir: Coorie In with Scandi Crime Friends with Antti Tuomainen and Lina Bengtsdotter
23 Feb 2023
7:00pm
Lemon Tree
Granite Noir: Coorie In with Scandi Crime Friends with Antti Tuomainen and Lina Bengtsdotter
Lina Bengtsdotter takes us to Karlstad, nine-month-old Beatrice is missing from her pram. Her parents are in shock and the media is in a frenzy. DI Charlie Lager is struggling with her own demons when she's called to investigate, forced to push them aside as the case intensifies.
Insurance mathematician Henri has his life under control, when a man from the past appears and a shady trio take over the adventure park's equipment supply company … Things are messier than ever in the absurdly funny, heart-stoppingly tense second instalment in Antti Tuomainen's bestselling series. Two starkly different but equally intense and thrilling books from Sweden and Finland respectively.
Chair: Jacky Collins
Antti Tuomainen
Finnish Antti Tuomainen was an award-winning copywriter when he made his literary debut in 2007 as a suspense author. The critically acclaimed My Brother's Keeper was published two years later. In 2011, Tuomainen's third novel, The Healer, was awarded the Clue Award for 'Best Finnish Crime Novel of 2011' and was shortlisted for the Glass Key Award. The Finnish press labelled The Healer – the story of a writer desperately searching for his missing wife in a post-apocalyptic Helsinki – 'unputdownable'. Two years later, in 2013, they crowned Tuomainen 'The King of Helsinki Noir' when Dark as My Heart was published. With a piercing and evocative style, Tuomainen was one of the first to challenge the Scandinavian crime genre formula, and his poignant, dark and hilarious The Man Who Died became an international bestseller, shortlisting for the Petrona and Last Laugh Awards. Palm Beach Finland (2018) was an immense success, with The Times calling Tuomainen 'the funniest writer in Europe', and Little Siberia (2019) was shortlisted for the Capital Crime/Amazon Publishing Readers Awards, the Last Laugh Award and the CWA International Dagger, and won the Petrona Award for Best Scandinavian Crime Novel. The Rabbit Factor is the first book in Antti's first-ever series. Follow Antti on Twitter @antti_tuomainen, or on Facebook: facebook.com/AnttiTuomainen.
Lina Bengtsdotter
Lina Bengtsdotter (b. 1977) was raised in the small town of Gullspång, the setting of her lauded Charlie Lager series. She has a background in teaching within the fields of Swedish and Psychology and started off her literary career as a short story writer with works published in numerous newspapers in the Nordic countries.
Her full-length debut For the Missing landed her the 2017 Crimetime Specsavers Award for 'Crime Debut of the Year' in Sweden and established a cutting-edge authorship on the world stage, defined by well-crafted page-turner plotlines and captivating character portrayals.
Awards
Longlisted for the MIMI Award (Best Crime Fiction Novel) Germany – Francesca For the Dead
Shortlisted for the Prix des Lecteurs du Livre de Poche (Best Crime) France – Annabelle For the Missing
Crimetime Specsavers Award (Crime Debut of the Year) Sweden – Annabelle For the Missing
Jacky Collins
Dr Jacky Collins aka Dr Noir, formerly Senior Lecturer at Northumbria University in Literature, Film & TV and Spanish Language & Culture, is currently based at Stirling University. In 2014 Jacky established the International Crime Fiction Festival that is Newcastle Noir. With a keen passion for crime in translation, the festival regularly welcomes authors from the Nordic countries, Germany, France and more recently from Romania. More recently, she has been venturing into local radio, co-hosting a fortnightly crime fiction programme on SpiceFM, hosting literary events online with the Honey & Stag events team, and has joined Corylus Books, a new indie publisher of fine crime fiction in translation: from Romania, Iceland and beyond.

Granite Noir Discounts
The more shows you enjoy at Granite Noir 2023, the more you save!
Just log in to your account add the shows to your basket and the discounts will add automatically.
Buy for 5 events or more – 15% off
Buy for 10 events or more – 20% off
Buy for 12 events or more – 25% off