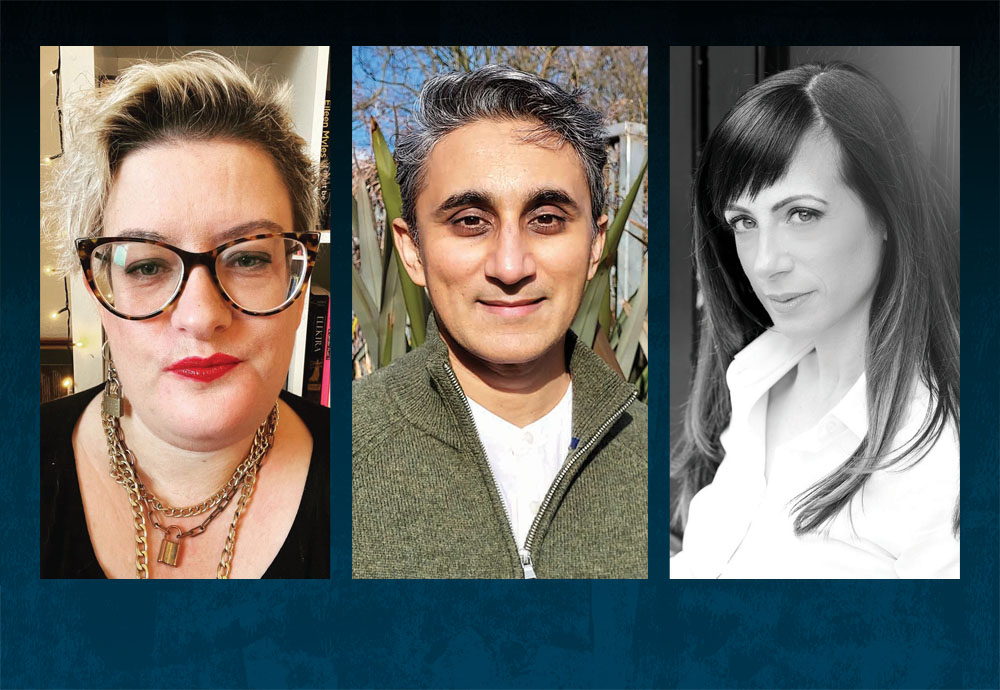 Granite Noir: Telling the Tales of the Past with Kaite Welsh, Vaseem Khan and Johana Gustawsson
24 Feb 2023
4:00pm
Lemon Tree
Granite Noir: Telling the Tales of the Past with Kaite Welsh, Vaseem Khan and Johana Gustawsson
Masters of the craft Kaite Welsh, Vaseem Khan and Johana Gustawsson chat about their books and how they write historical thrillers. Set during different times, in three different cities with detectives who have vastly different lives and approaches and yet we find common threads.
Chaired by Alex Clark.
Alex Clark
Alex Clark is a critic, journalist and broadcaster. A co-host of Graham Norton's Book Club, she is also a regular on Radio 4 and writes on a wide range of subjects for the Guardian, the Observer, the Irish Times and the Times Literary Supplement. She is a patron of the Cambridge Literary Festival, and has judged many literary awards, including the Booker prize. She is an experienced chair of live events, and lives in Kilkenny.
Johana Gustawsson
Born in Marseille, France, and with a degree in Political Science, Johana Gustawsson has worked as a journalist for the French and Spanish press and television. Her critically acclaimed Roy & Castells series, including Block 46, Keeper and Blood Song, has won the Plume d'Argent, Balai de la découverte, Balai d'Or and Prix Marseillais du Polar awards, and is now published in 28 countries. A TV adaptation is currently underway in a French, Swedish and UK co-production. The Bleeding – number one bestseller in France and the first in a new series – will be published in 2022. Johana lives on the west coast of Sweden with her Swedish husband and their three sons.
Kaite Welsh
Kaite Welsh is an author, critic and journalist living in Scotland.
Her novel The Wages of Sin, a feminist historical crime novel set in Victorian Edinburgh, is out from Headline in June 2017. It is the first novel featuring medical student, fallen woman and amateur sleuth Sarah Gilchrist, with two further books due in 2018 and 2019.
Her fiction has featured in several anthologies and she writes a regular column on LGBT issues for the Daily Telegraph as well as making frequent appearances on BBC Radio 4's Woman's Hour. In 2014 she was shortlisted for both the Scottish New Writers Award and the Moniack Mhor Bridge Award. She has also been shortlisted for the 2010 Cheshire Prize for Fiction and the 2010 Spectrum Award for short fiction.
Vaseem Khan
Vaseem Khan is the author of two award-winning crime series set in India, the Baby Ganesh Agency series set in modern Mumbai, and the Malabar House historical crime novels set in 1950s Bombay. His first book, The Unexpected Inheritance of Inspector Chopra, was selected by the Sunday Times as one of the 40 best crime novels published 2015-2020, and is translated into 17 languages. The second in the series won the Shamus Award in the US. In 2018, he was awarded the Eastern Eye Arts, Culture and Theatre Award for Literature.  In 2021, Midnight at Malabar House won the Crime Writers Association Historical Dagger, the world's premier award for historical crime fiction. When he isn't writing, he works at the Department of Security and Crime Science at University College London. Vaseem was born in England, but spent a decade working in India. Vaseem also co-hosts the popular crime fiction podcast, The Red Hot Chilli Writers.

Granite Noir Discounts
The more shows you enjoy at Granite Noir 2023, the more you save!
Just log in to your account add the shows to your basket and the discounts will add automatically.
Buy for 5 events or more – 15% off
Buy for 10 events or more – 20% off
Buy for 12 events or more – 25% off